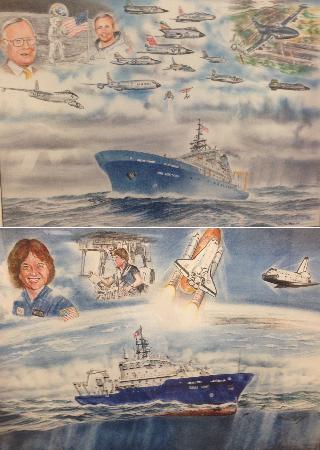 Writer and former P-3 aviator J.L. Curtis ("OldNFO") has a post connecting space and the Navy that is worthy of note.
Two new Oceanographic Research vessels are under construction or development: RV Neil Armstrong (AGOR-27) and RV Sally Ride (AGOR-28). These paintings are the "commissioning lithos."
Neither one of these names needs an introduction, but I will say that Armstrong was a former Navy test pilot.
Science fiction writers, always on the hunt for names for future ships, will now have to note that these names are taken for the next few decades, and they won't be getting the "USS" designation. "RV" stands for Research Vessel. It's a safe bet that more than a few sci-fi novels already have ships named after these two.