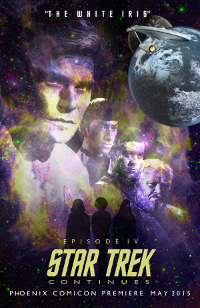 Star Trek Continues released their fourth episode online today: The White Iris
I've got my gripes, such as breaking the rules by having a holodeck on the Enterprise of the original series. They did a few other stupid things, but some are appropriate. It's reasonable to do some stupid things if the 1960s TV series would have done them, too. After all, the premise of this show is to extend the original series with a similar look and feel.
This episode recreates more guest characters from the original series. I hope they continue to do more of that. The City on the Edge of Forever is begging for a full sequel of its own.
You can also catch it here on YouTube.
Or, if you're new to Star Trek Continues, you can read my first post on the topic, which has links to the three earlier episodes.