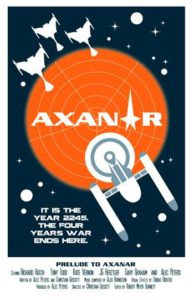 But it's in pieces. Little pieces.
As I explained last year, Star Trek's powers-that-be had decided that the fan film Axanar needed to be axed after more than a few warp-factors too many. Several unwritten lines had been crossed, forcing Paramount to write it all down in ink. As Engadget reports:
Although the full list of changes hasn't been made public yet, it has been announced that the film will need to abide by at least some of the official fan film guidelines. Specifically, the production can only be 30 minutes long in total, and even then it has to be split into two parts. The Axanar film also can't have "Star Trek" in the title, cannot use public crowd-funding and may not compensate any of the professional talent for their work.
The 30-minute length is a big loss for what was intended to be a feature-length movie. The only big break I see is that they're allowing Gary Graham to appear as Soval the Vulcan, seen in this teaser:

My first post on Axanar is here. It links to the original promo, which was already longer than each section is to be permitted.
I always understood the reasons for these positions. Still, this is a major loss for the production, and for us fans. But it's better than nothing.