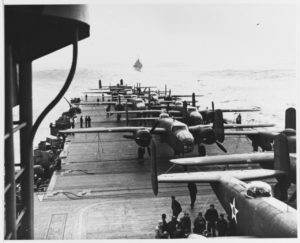 The Doolittle raid was 75 years ago today. 80 men in 16 B-25 Mitchells took off of the USS Hornet (CV-8) on April 18, 1942 to attack mainland Japan.
The Navy has a good write-up here. (These U.S. military histories are an important resource.)
Of the 16 B-25s: "15 crashed in occupied China, where the Japanese inflicted brutal reprisals against the Chinese populace in Chekiang province. One B-25 landed intact at Vladivostok, where the Soviets interned it and its crew."
The reprisals were indeed brutal.  The Chinese paid the biggest price of all.
Of the Raiders, 3 were killed in combat, 8 captured (of which 3 were killed, and one died in captivity).
The Soviets were unwilling to release the crew they recovered until the end of the war. While that may seem strange now, they were not at war with Japan. To send them home would risk them being seen as participants. (A few years later, they disassembled and duplicated the B-29 from one that they got that way.)
USS Hornet got back safely, but did not survive the year. The one currently on display in Alameda, California, is the USS Hornet (CV-12), which was commissioned the next year.